Thanks to the invitation we received from Eplan, the electrical design software we are using at Ateknea, we heard about the first edition of the "Advanced Factories" conference, held at the CCIB Barcelona, located at Fórum. Our Industrial Processes department swiftly organized a visit on one of the exhibition days, as the conference's slogan "discover the latest in machine tools, industrial automation and software to transform your business" was of interest to all the people in the department: electrical, control and automation, and mechanical.
Regarding Control and Automation, we could experience firsthand some of the latest innovations not only of the leading brands in this sector such as Eplan, Rittal, ABB, Rockwell Automation, Festo, Weidmüller and many others, but also from manufacturers hitherto unknown that may be an option for future projects such as IronTech, a company based in Girona (Spain) that is dedicated to the design and manufacturing of industrial computer hardware.
Robotics, as sector with dynamic growth, was very well represented with some collaborative robot model by brands such as Kuka, Fanuc, Universal Robots or Yaskawa.
Apart from the exhibition itself, there were a series of presentations and speeches related to Industry 4.0. There was also a "Factory Innovation Theater" that hosted short presentations of solutions and products.
If we had to highlight a particular product, we would choose the "ThinManager" by Rockwell Automation. A factory visualization management software, operating on Zero Client type screens (without operating system). The software allows managing factory visualizations, on thin clients or light clients, providing advantages such as the reduction of deployment costs, maintenance and update of the application and the possibility of connecting to the server of the application from heterogeneous devices (BYOD – Bring Your Own Device). Among the benefits are: configuration and centralized management, quick replacement of terminals, time and money savings as well as managing users by adding an extra layer of security.
Related to Machining and Manufacturing, there were large manufacturers of machining centers as well as a wide range of suppliers of parts and technical solutions for our prototypes. We were able to take a close look at new manufacturing technologies, such as the new HP 3D printer, the Jet Fusion 4200/3200, that achieves to 10 times faster print speeds, cutting manufacturing costs by half and maintaining excellent mechanical properties.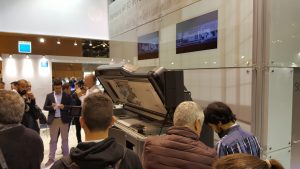 We also saw the new low cost planetary gearboxes from IGUS, which are very useful for applications without heavy loads, and guides with wear sensors, for intensive applications. We met with regular suppliers like FESTO, PROTORAPID or IFM, and enjoyed their candies.
We saw the different types of machining centers, and the different forms of machining that we use to create the more complicated pieces, and we closely checked the surface finishes of the different 3D printing technologies. We also saw the different methods manufacturers have discovered to improve FDM prints and confirm that the latest improvements made to our small 3D printer are in line with the quality of the latest machines.
Concluding with 3D Technologies, we were able to check out the latest developments in the metrology sector by leading companies such as FARO, RENISHAW and ZEISS. Within this sector, we were impressed by the 3D Scanner that allows the creation of 3D models in a wide range of sizes, considerably reducing design time and increasing accuracy when creating the model.
This first edition of the conference has been great and a second edition is scheduled from March 15 to 18, 2018. We will save the date!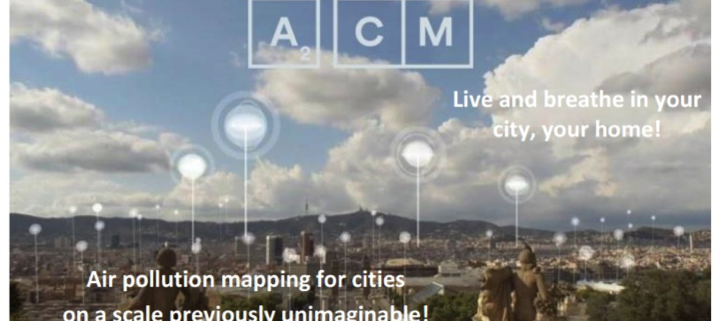 Ateknea Solutions Europe has been granted an SME Instrument Phase-1 grant in the February 2017 cut-off date for the A2CM project, Deploying the novel, large-scale Ateknea Air City Monitoring Platform. The core of this Technology has been developed by Ateknea under the European project citi-sense.eu where low-cost gas sensors were implemented with high accuracy due to a novel post-process algorithm applied over raw data provided by sensors. The installation of A2CM nodes placed in streetlights within a dense matrix will permit achieving the high spatial and temporal resolution required to define a solid plan for air quality enhancement and consequently mitigate air pollution in cities.
We want to commercialise a very powerful, innovative and unique urban air monitoring system that will permit, for the first time, to really map air pollution in cities on a previously unimaginable scale. Air pollution is a major problem for public health, and it is only expected to get worse due to urbanization on a global scale. Air pollution in cities is linked to up to 1 million premature deaths and 1 million pre-native deaths each year. Urban air pollution is estimated to cost approximately 2% of GDP in developed countries and 5% in developing countries. The overall goal of the proposed project is to bring to market this comprehensive and fast pollution-mapping tool for cities.

Butano24 is a Catalan company that now ranks as one of the top Internet of Things (IoT) companies worldwide thanks to the innovative technology for their butane sensor developed by Ateknea Solutions Europe. Two demonstrators were displayed at the latest Mobile Wold Congress 2017, held this March in Barcelona. One demonstrator used NBIoT and the other one used LORA integrated by Flex. This innovation and the recognition received by the technology at the Mobile World Congress have ensured the company's emergence as a strong player in Internet of Things.
Butano24 modernizes the process of demand for butane. The device uses a smart sensor to measure the level of gas in butane bottles and informs users via a mobile application when the butane is running low. The app also allows users to place orders online, quickly and from anywhere. At the same time, butane distributors are more in touch with the needs of their customers and can use data offered by Butano24 to analyse the buying patterns and consumption habits of their users.
Butano24 also works with other types of gas and can measure levels in all types of barrels, tanks and other gas and liquid containers.
Butano24 has received good reviews from the international press, which even listed Butano24 as one of the most "innovative" companies in the IoT sector and as well as its device as one of the six "most outstanding technologies at MWC 2017".