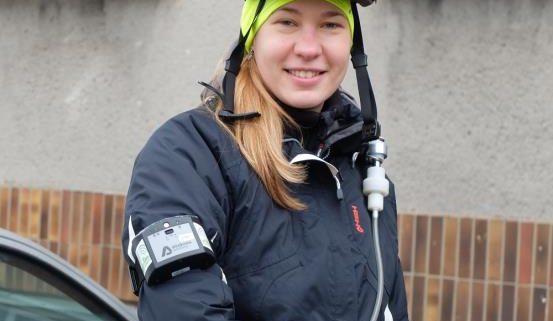 Ostrava/Silesia is one of the most air polluted areas in the Czech Republic due to its density of heavy industry. Over the last decades, high concentrations of PM2.5 (particles smaller than 2.5 μm) and B[a]P (benzo[a]pyrene), both proven human carcinogens, have been measured in air continuously, exceeding the limits for human health protection.
The CITI-SENSE Empowerment Initiative (EI) in Ostrava aimed to answer some of the citizen concerns. We have been carrying out air quality measurements between winter 2013 and winter 2016. Usually in winter time, air pollution in this location reaches high concentrations well above the limit values. The measured concentrations during the period of the Ostrava EI exceeded the limits for health protection 25 μg/m3 PM2.5 and 1 ng/m3 B[a]P several fold.
Part of the EI was also a biomonitoring campaign. Volunteers have kept a time-location-activity diary and answered a questionnaire about their life style and an air quality perception questionnaire. They also could try out the ATEKNEA personal sensor (LEO) and use the mobile application CityAir. The CITI-SENSE static sensors and the compliance air quality monitoring network were providing background data about PM2.5, B[a]P and NOx. Citizens and NGOs had also a chance to cooperate closely with scientists and ask questions about air quality.
Continue reading the original report available in the link below:
https://issuu.com/citi…/…/citi-sense_newsletter_no12_final/1
https://ateknea.com/wp-content/uploads/2016/08/CITI-SENSE_Newsletter-No12_FINAL.jpg
465
553
Ateknea Solutions
https://ateknea.com/wp-content/uploads/2017/11/Logotipe-Ateknea-CMYK_border.png
Ateknea Solutions
2016-08-08 08:03:24
2016-08-08 08:03:36
Citizens' Observatories and biomonitoring campaign in Ostrava