Ateknea Solutions has achieved high levels of quality in proposals submitted to the European Commission, increasing its clients' chances of obtaining EU funds for innovation and business activities.
In what is now one of the most competitive European R&D&I programmes ever, the success rate for winning proposals is falling due to popular demand. A greater awareness in alternative finance options instead of traditional loans from banks – who are still reluctant to lend to following the financial crisis – has led many businesses, especially SMEs, to seek new ways of financing their business endeavors.
The SME Instrument (SME-I) is a EU funding scheme targeted at SMEs who have an product, process or business model that can disrupt the market. In return for addressing EU societal challenges, adding value and spurring job creation, the EU offers non-refundable funds for a feasibility study (Phase 1 proposals) and business innovation and business plan development (Phase 2 proposals).
The demand for the SME-I is high. But the rejection is even higher. Over 90% of proposals submitted to the European Commission do not pass the quality standards expected and are rejected at the first round. Those proposals that do pass the rigorous quality thresholds, have a 50% more chance of being granted the funds (which range from a lump sum of 50,000 for Phase 1 proposals and up to 2.5 million for Phase 2).
Ateknea Solutions is pleased to reveal its statistics on quality* together with statistics on the number of proposals submitted at EU level per topic for the June call. With 75% of Ateknea's Phase 1 proposals reaching the quality threshold and 77% for Phase 2, we continue to commit to quality and added-value for our customers.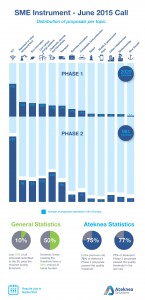 *based on the latest results from the previous call.
Ateknea Solutions is a leading R&D&I engineering firm with over 17 years' experience and 6 offices dotted throughout Europe. For more information get in touch via contact@ateknea.com or see our contact page.
Sources: ScienceBusiness, EASME, Ateknea.
https://ateknea.com/wp-content/uploads/2015/07/Ateknea_SMEInstrument_JuneCallStatistics1.jpg
8490
4101
Ateknea Solutions
https://ateknea.com/wp-content/uploads/2017/11/Logotipe-Ateknea-CMYK_border.png
Ateknea Solutions
2015-07-21 11:32:23
2015-07-21 12:46:14
Ateknea high quality rate in proposals