The team behind an all-terrain autonomous mobile robot for the viticulture industry have released a demo video to celebrate a milestone in the project's execution.
The VINyard roBOT (VINBOT) is an all-terrain autonomous mobile robot with a set of sensors capable of capturing and analysing vineyard images and 3D data by means of cloud computing applications to determine vineyard production potential.
Recorded within the margins of a half-way project meeting, the video shows a demonstration of VINBOT in action at the Tapada da Ajuda vineyards in Lisbon.
VINBOT responds to a need to boost the quality of European wine production by implementing precision viticulture to give winegrowers an idea of the amount of fruit per square metre of vine area – in other words, the production potential a vineyard has.
The European Union remains the world's biggest wine producer, accounting for 60% of global wine production. 
Developed by 9 consortia from across Europe, this technology will enable wineries and wine growers to make accurate yield predictions to organise the production and align marketing strategies to their wines.
To see the demonstration video click here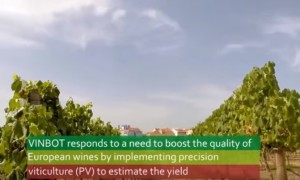 For more information visit the VINBOT website or email us at: info@vinbot.eu
Source: European Commission
https://ateknea.com/wp-content/uploads/2015/12/M21-Tec.-Meeting_Lisbon_13_14.10-27.jpg
4000
6000
Ateknea Solutions
https://ateknea.com/wp-content/uploads/2017/11/Logotipe-Ateknea-CMYK_border.png
Ateknea Solutions
2015-12-03 13:17:16
2015-12-03 13:46:28
Wine production robot in action!